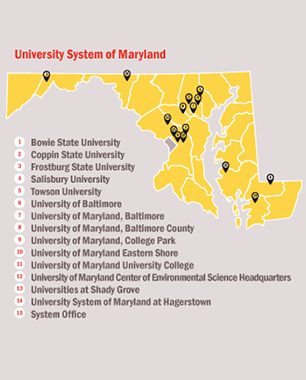 We are the first
system-level Center to conceptualize, promote, study, and disseminate groundbreaking innovations aimed broadly at transforming higher education.

This is a time of disruptive change in higher education. Public colleges and universities increasingly face calls for more transparent accountability, evidence of return on investment, and creative solutions to difficult problems including budget constraints and the changing character of our students. Academic transformation is the term being used increasingly to describe universities' efforts to create optimally effective and efficient learning environments that enhance student success.
The USM's success in building system-wide capacity for academic transformation has most recently led to the establishment of this new Kirwan Center for Academic Innovation, housed in the USM Office of Academic Affairs. Under the leadership of its first director, Dr. MJ Bishop, the Center is becoming a focal point for conceptualizing, promoting, studying, and disseminating ground-breaking academic transformation work both within Maryland and across higher education nationally.
Impact:
We are capitalizing on recent findings from the learning sciences, as well as the capabilities of emerging technologies, to increase the accessibility, affordability, and quality of higher education simultaneously.
Initiatives:
We are bringing together faculty and administrative leaders from across the System to identify ways we might improve the success of students, evaluate the feasibility of these approaches, and scale-up the most promising models.